To be sure, Final Cut Pro is the best professional video editor for post production of movies. However, Final Cut Pro is a Mac-based program and it is only available for Mac users. For Windows users, they have no access to use FCP on their Windows PC. That's a great pity! While Mac is often the go-to platform for video editing, Windows should not be ignored, as it, too, has a series of programs that can be used well for situations where video editing is required. Here are the recommended Final Cut Pro alternatives for Windows platform.
Best FCP Alternatives for Windows
Create media bins based on project metadata search criteria
Tap into the power of Premiere Pro on your iPhone and iPad with the new connected mobile app, Premiere Clip.
Premiere Pro and Adobe After Effects are more tightly integrated to speed up your workflows.
Edit virtually every major video format natively in Premiere Pro, no transcoding, no rewrapping.
Direct Link lets you send Premiere Pro projects directly into Adobe SpeedGrade for color grading
Speed up editing with new timeline enhancements
Expand digital intermediate and multicam workflows
Get more responsive multicam scrubbing and better timeline navigation when working with simultaneous video streams
Get 9-way real-time multicam support for Long GOP (XDCAM) media
View location sound metadata from Broadcast Wave files with support for iXML
Deliver finished sequences to a standardized AS-11 (AMWA) MXF OP1a file
If you, as a PC user, Sony Vegas is a contemporary video editing program that offers users a powerful program featuring all-in-one functionality. With innovative editing tools such as a customizable workspace that you can configure for any project you are working on and 3- 4-point editing tools, Sony Vegas Pro 13 has an adaptability that allows users to enjoy greater flexibility in how they edit their video clips and movies. Available at http://www.sonycreativesoftware.com/vegaspro, PC users can learn just why Sony Vegas Pro 13 could be the right program for them to use for their video editing needs.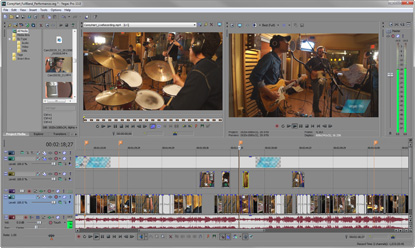 FCP V.S Premiere V.S AviD V.S Vegas
| | | | | |
| --- | --- | --- | --- | --- |
| | Final Cut Pro | Adobe Premiere Pro CC | AviD Media Composer | Sony Vegas Pro |
| Price | $299.99 | $19.99 USD/month | $49 USD/month | $599.95 USD |
| Compatibility | Mac | Mac & PC | Mac & PC | PC |
| User Level | Beginner-intermediate | Intermediate-professional | Professional | Intermediate-professional |
| Installation | Possible issues in corporate environment – need multiple machines under one Apple ID | Great with Creative Cloud, but you have to download installers to each new machine | Easy – carry Mac and Windows installers with keys on USB | Does not appear to have Cloud accessibility |
| Timeline | Magnetic timeline | Adaptive streaming timeline | Can adapt streaming timeline | Track-based timeline |
| Workflow | Able to organize through keyword collections | Multiple workflows | High res to HD workflows | Comprehensive S-flow, Smart Proxy workflows |
| Playback | Unrestricted real-time playback | GPU enhanced playback | 3-button playback options | GPU enhanced playback |
| Preferred Codec | ProRes | Not Specified | DNxHD | Not Specified |
| UHD Support | Can handle resolution larger than 4K | Can handle resolution larger than 4K | Can handle resolution larger than 4K | Can handle resolution larger than 4K |
It's a Wrap!
While Final Cut Pro is a great video editing program for Mac, there is a wealth of alternative options available for PC users. Whether users choose Adobe Premiere, AVID Media Composer or Sony Vegas Pro 13, users looking for a way to edit their video clips and movies will be able to find the video editing program that has the functionality and flexibility for video editing that they want and need.