There are a number of ways you can use your Final Cut Pro X software remotely from your iPad giving you the freedom to work on your projects from anywhere. Many companies are producing third-party apps that you can download to your iPad and are made to work specifically with Final Cut Pro X. These are the top five apps for FCP X remote control.
Top 5 Apps to Control FCP X via iPad
Created by Pixel Film Studios, PROCUTX is an app that will allow you to control most of the dedicated functions of Final Cut Pro X. The app has a streamlined interface making editing fast and easy. With the Toolbox on the bottom left of the app and on the main function dial, you have all of the editing tools you need to work on projects away from your computer. Importing and sharing is done with the touch of a finger, you can edit multichannel audio, can collect multiple clips into a single clip, and you can auto-correct at the touch of a button.
Pros: It does all of this without you having to learn keyboard shortcuts or navigating through multiple menus. Setup is easy and the app connects seamlessly and instantly with your Final Cut Pro X.
Cons: In order to see what you have done, you must switch between the app controls and the interface. There is no In or Out point selections, and there is no Insert, Replace, or Overwrite functions. Some tools can be selected but cannot be applied to the clip you're working with.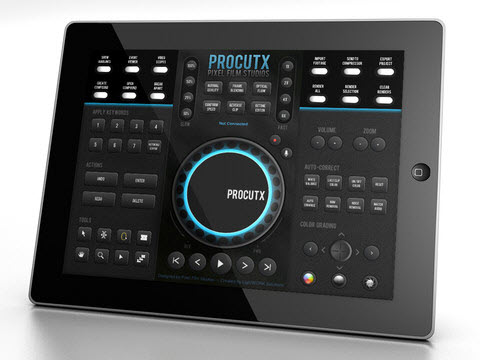 Editmote is a Mac and iOS app that works over wi-fi as a remote control for your Final Cut Pro X, as well as other video editing software. Editmote can be customized for keyboard layout, and support apps can be easily added. It allows you to set In and Out points, control the playhead, and trim and navigate your video's timeline. You can change the function of a particular button or remove it from your display.
Pros: Provides an easy way to remotely work within your Final Cut Pro X. It has customizable keyboard functions and is easy to download and install for free right from the app store or iTunes.
Cons: It works only through a Wi-Fi connection and your Mac and iPad must be on the same network. Not all of the buttons work with running programs such as QuickTime.
Created as a Kickstarter campaign, the CTRL+Console is an app that is designed to work quickly and easily with your Final Cut Pro X. It has a customizable keyboard and gesture control functions so you can keep your eyes on your work. There is even a reference for the gestures right in the program. Setup is easy, and you can download the app from the iTunes store. It is a desktop app that syncs with your iPad or iPad Mini. The app allows you to set In and Out points, and includes Overwrite, Insert, and Zoom functions as well as other editing tools.
Pros: All of the editing tools at your fingertips with a simple to use control panel and easy to install.
Cons: Might be tricky to work for more complex editing and the Tools require you to press buttons, taking your attention away from your work.
This is a tool that can act as control panel for many apps on your iPad, including Final Cut Pro X. It is easy to use and completely customizable. The controls are simple and allow you create your own custom platform. DAW Control allows you to edit and trim your work, controls the color grading, and allows for editing audio effects.
Pros: Easy to use and allows you to customize controls to your preferences. Smooth touchscreen motion.
Cons: More complex editing tools might be tricky and can take attention away from your work.
This app offers a multi-touch control panel with full features, enabling you to work in Final Cut Pro X from your iPad or iPad Mini. V-Control Pro makes editing, adding clips, and trimming easy and fast. It also provides precise color control adjustment and easy time scrubbing. There are preset skins so you can choose the control panel display that works for you. It also allows for full audio control and adjustment.
Pros: Dedicated keyboard shortcuts, supports Retina Display, and V-Window which displays the interface of your desktop.
Cons: Costs a bit more than other remote control apps, and the rotary controls can take a little time to get used to.